There are only two rules to being a happy camper in the Roma Region.
Choose your campground wisely;
Don't forget rule number one.
To help you pitch your perfect Roma adventure, we've pulled together a list of our favourite camp sites so you can spend more time settling into country life than choosing where to set up.
Whether it's your first time sleeping under the canvas or you know your way around a dehydrated dinner like Bear Grylls, we promise you'll enjoy soaking up the serenity in the Roma region.
1. For the best glamping – Wallarooo Outback Retreat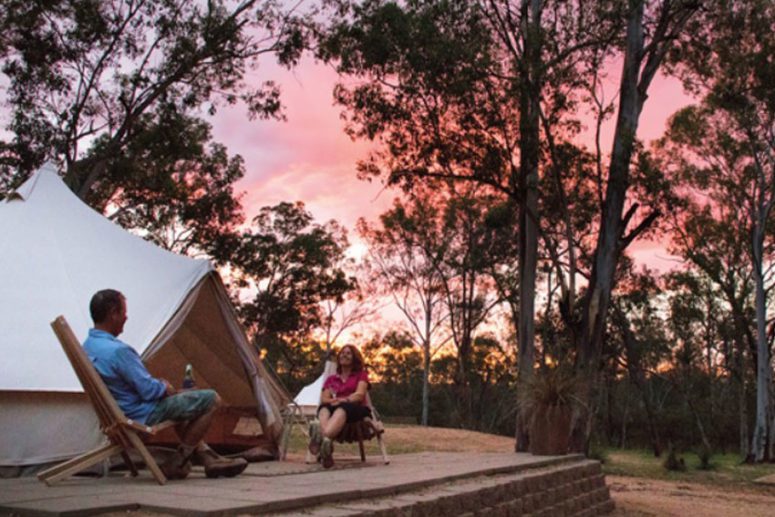 If you like the idea of camping, but want none of the pesky set up and pack down that goes with it, don't rule out a trip to the outback as just for outdoorsy types.
Instead, stay on a 72,000 acre cattle station in the lap of luxury, checking into Wallaroo Outback Retreat. Wallaroo is located 160kms north of Roma via Injune.
Here you'll find glamping tents that will ruin the decision to go traditional camping forever more.
Say goodbye to camping mattresses that make your yoga mat look cushioned comfort and hello to Posturepedic mattresses, crisp white linen and probably the most important detail for camping-newbies, real bathroom facilities.
At Wallaroo Outback Retreat, you'll still get to enjoy the spoils of the camping eu-naturale – sitting around a bon fire at night, star-gazing without any light pollution and waking up to the sound of birds, not an alarm clock.
Spend your days exploring the property with your hosts or opt to tour Wallaroo's spectacular neighbours – Carnarvon National Park, Lake Nuga Nuga and Lonesome National Park.
2. For the best water views – Neil Turner Weir, Mitchell
For proof the best things in life are free, pitch your tent or steady those caravan legs along the edge of the Maranoa River at Neil Turner Weir, just outside Mitchell.
BYO camping or caravan equipment and let Neil Turner Weir take care of the rest, including flushing loos and picnic tables.
With room for about 50 vans, there's ample space to find your own slice of serenity around the water without fearing any neighbours will encroach on your set up.
What you save on accommodation you'll be able to splurge on the Thermal Artesian Pools at the Mitchell Great Artesian Spa – a dip we think your tired, road-tripping muscles will thank you for.
As the sun sets over the water in front of the van, you'll soon see why so many campers award this site five stars in their online reviews and unexpectedly extend their stay by a few more nights.
3. To sleep close to history – Roma Big Rig Tourist Park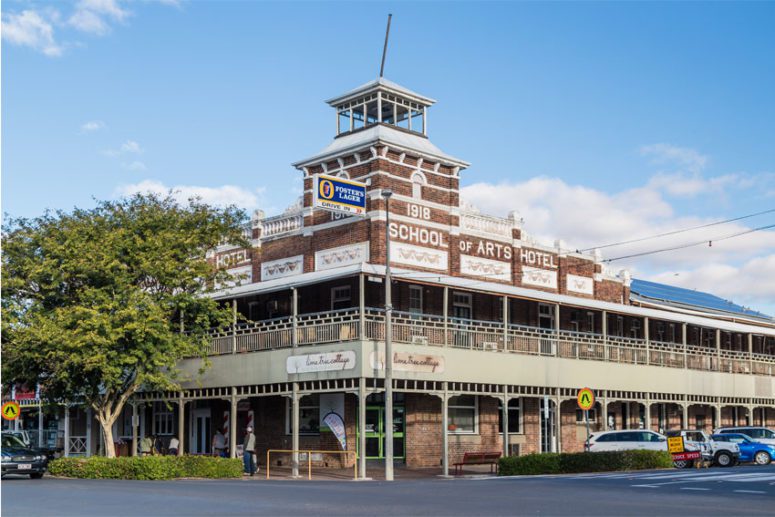 To stay in the thick of the CBD action, so close that you can pack away the car keys as soon as you arrive, check into Big Rig Tourist Park.
It's a tent peg's throw from the main street, The Big Rig Oil Patch Museum, Roma Saleyards Visitor Tours and walking distance to the pubs and restaurants in town, which is great news if you're thinking of working your way through this country pubs list.
The accommodation menu is comprehensive, with the choice of checking into self-contained villas, low-cost workforce accommodation, cabins, houses and shaded powered, unpowered caravan and camping sites.
No matter how you choose to stay the night, you'll have access to the park's large, covered camp kitchen, laundry and BBQs.
Finding this tourist park is simple – keep your eyes peeled for the towering icon of Roma's CBD, The Big Rig as you motor along the Warrego Highway into town.
4. To be close to the Carnarvon action – Injune Caravan Park
If you've read this blog post about Carnarvon National Park, you'll know finding accommodation close to the park in school holidays can be as rare as spotting an endangered Powerful Owl in the park.
Enter the neighbouring town of Injune, some 180km south of the national park where you'll find the Injune Caravan Park, the perfect jumping off point to your national park adventure.
Choose between caravan or camp sites, each with access to the park's facilities perfect for if you want to extend your stay in the region and explore these things to do.
5. For the best country experience – Sandstone Park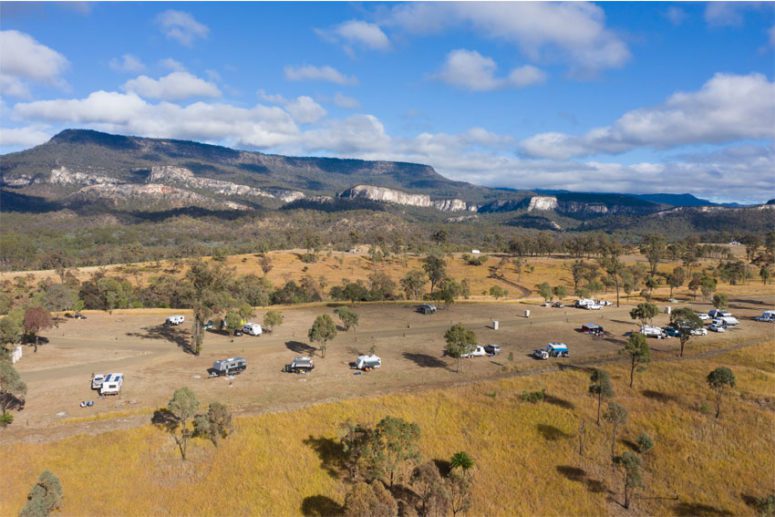 When in cattle country, stay on a cattle station, booking a site in Sandstone Park.
You'll find it just a five-minute drive from the entry of Carnarvon National Park, totally accessible by sealed roads making this park caravan and camper trailer friendly.
Every room (or more accurately, campsite) has a view, with flat sites with panoramic views over Carnarvon National Park.
Good news for those travelling with their furry friend – Sandstone Park is entirely pet-friendly, complete with kennels (available for a day rate) so you can leave Fido safely contained at Sandstone while you explore Carnarvon National Park, which like all Queensland Parks is not pet-friendly.
6. To sleep close to where the fish are biting – Fisherman's Park, Surat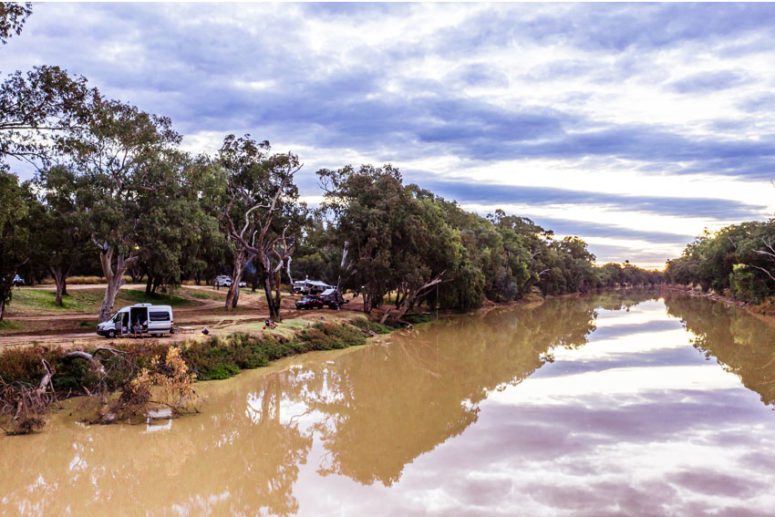 Fisherman's Park by name and nature, you'll find this free camp on the banks of the Balonne River in Surat.
When you're not busy casting off, you can follow the Surat Riverwalk, which takes off from the park and hugs the Balonne River for approximately two kilometres of paved, scenic walking.
Although the park has its own toilets and picnic table amenities, you'll want to BYO water and firewood for your stay.
With ample shady spaces to set up for a camping or caravanning adventure in the Roma region, you can see why Council has put a 72-hour limit on stays here to ensure everyone wanting to cast a line can rest here.
7. For the best star gazing – Judd's Lagoon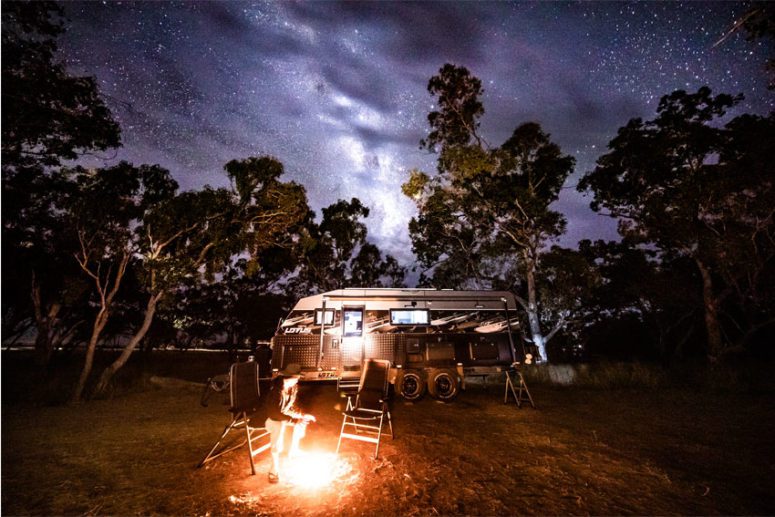 If you're chasing serenity with your campsite, drop the pegs at Judd's Lagoon just outside Yuleba 45 minutes east of Roma.
This free camp sets the bar high with its exclusively waterfront sites, with firewood available for purchase to set the perfect evening tone.
You'll want to pack the rod and reel as the chance of hooking a yellow belly or cod are high (provided there's been rain recently) and the perfect way to while away an afternoon camping.
For those just happy to pop in for a shorter trip, there are BBQs and picnic table facilities to accommodate a meal around this pretty lagoon.
8. For a shooting good time – Roma Gun Club Caravan and Camping
Not all campsites are connected to a clay pigeon shooting range, but Roma Gun Club Caravan and Camping is.
Your day time activities are very much sorted at this park, which you'll find about three kilometres from the CBD.
With the choice of powered or unpowered sites, Roma Gun Club Caravan and Camping prides itself on having no vehicle or van size limits, so you can take your big rig to visit the town famous for a different kind of Big Rig.
Despite its connection to the shooting range you can expect a quiet stay here. Being out of the CBD itself affords this park some of the quietest camping conditions.
9. To stay close to all the attractions – Villa Holiday Park
The words position, position, position don't just apply to freehold real estate but also the temporary real estate you set up as your holiday HQ camping.
To stay close to all the action, check into Villa Holiday Park, on the northern side of Roma's CBD.
With the choice of sites suitable for vans and tents, and the option to upgrade to a cabin if you want to swap the canvas for something a little more sturdy (like a cabin or villa) for a night or two, it's easy to stay and play a while.
Not only does Villa Holiday Park have the only sites with ensuites in Roma's CBD, it's also pet-friendly, so the whole family can make use of this park's amenities.