Follow the trail of notorious bushrangers, soak away stress in thermal springs and get to know Indigenous culture in Mitchell.
This small Outback Queensland town, 90km west of Roma is full of heart and the locals love to share their community with visitors passing through.
Roughly an hour further along the Warrego Way than Roma, if you find yourself in this south-west pocket, here are 11 things to do in Mitchell, Outback Queensland.
1. Take a dip in the Great Artesian Spa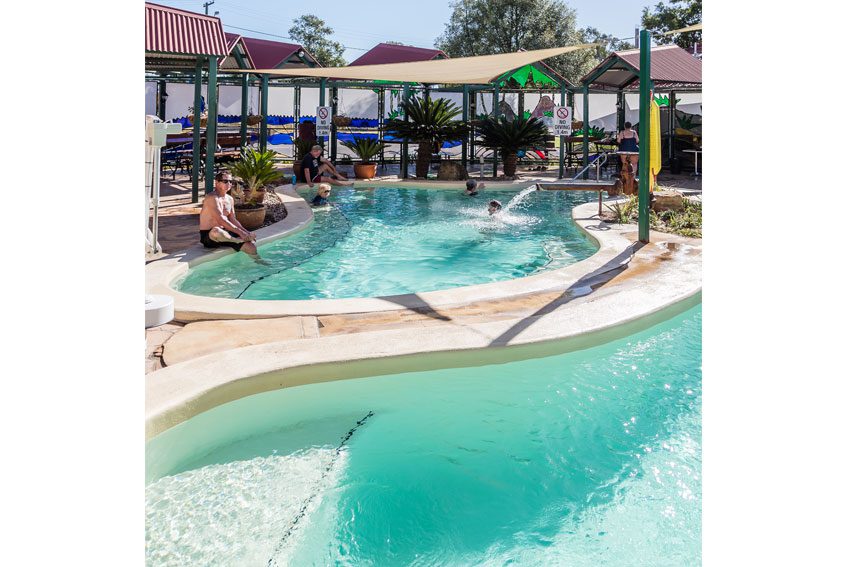 Grab your swimmers and take those aching muscles over to Mitchell's Great Artesian Spa.
The perfect antidote to physical work and long drives, relax in the therapeutic waters drawn from the Great Artesian Basin.
The spa complex has two large pools at different temperatures filled with precious natural spring water.
The cool one is perfect for hot days, while the warm one will ease any tension, relax those tired muscles and soak away stress.
Spend a rejuvenating day here soaking in the springs, taking breaks at the on-site cafe that offers homestyle lunches, baked goods (seriously, it's home to the best homemade scones) and barista-made coffee.
2. Visit the Kenniff Brothers Monument at Arrest Creek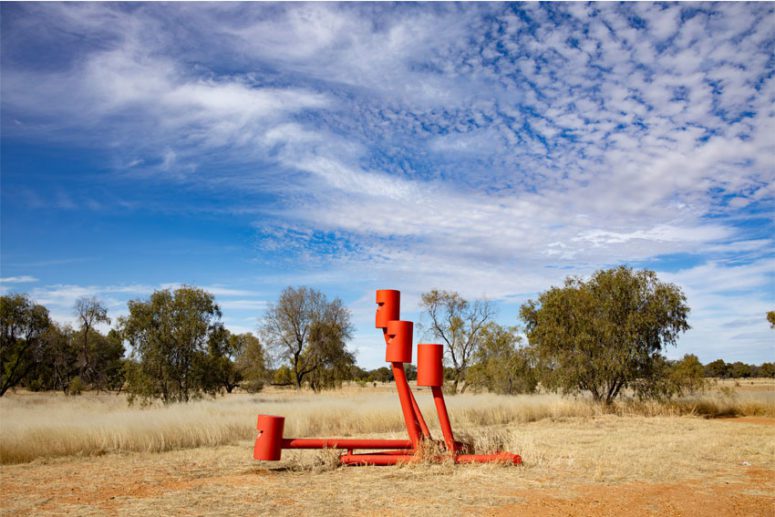 It's hard to miss the striking red monument at Arrest Creek, but there's more to this story than first meets the eye.
This minimalist sculpture recreates the moment that one of Australia's last bushrangers met his fate after three months on the run.
The red bucket head lying on the ground represents Patrick Kenniff, as two policemen stand guard behind him alongside an Indigenous tracker.
Artist Peter Baulch created the piece to commemorate the service of police troopers and Aboriginal trackers.
3. Cast off at Fisherman's Rest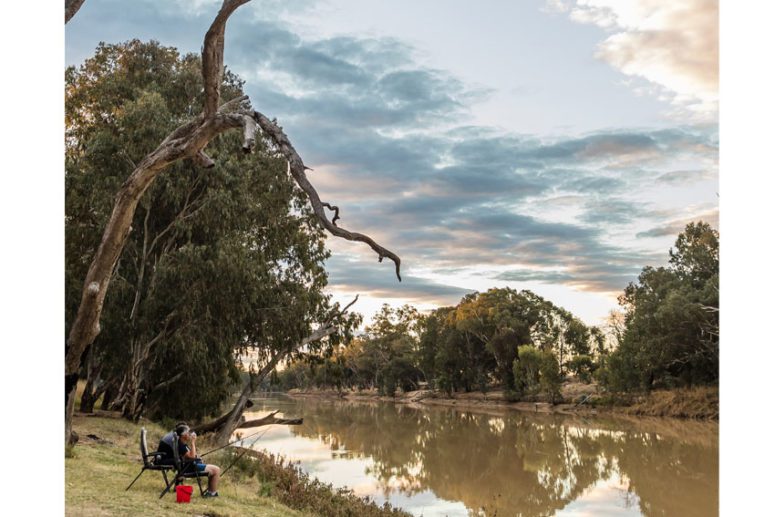 Another badly kept local secret can be found on the banks of the beautiful Maranoa River, a few kilometres out of Mitchell itself – Fisherman's Rest.
Fisherman's Rest is — as the name suggests — a great spot to cast a line. A ramp allows for easy access to the river to launch a boat or kayak and try your luck fishing for yellowbelly and other species.
If you're in town with a caravan or tent, this bush campsite is popular thanks to its location, pet-friendly status and price tag (it's free!). 
With toilet and barbecue facilities, plenty of shade, easy access for large vehicles and a boat ramp to the river, it's easy to see why people choose to pitch a tent here.
4. Wander the Indigenous Cultural Trail – Yumba Trail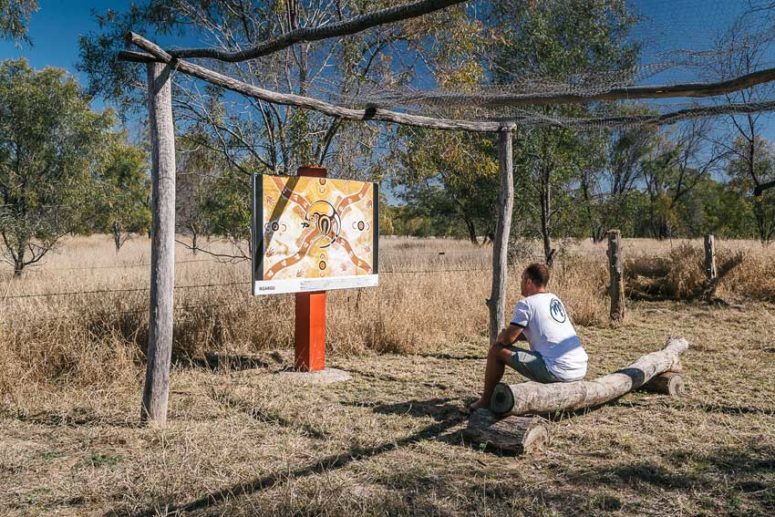 The Yumba Trail now stands in the place where the Gunggari, Bigara, Kooma, Kamilaroi and Mandandanji people once lived, before they were forcibly removed in 1968, when the local council deemed it too expensive to extend sanitation to the area.
As you approach the area, you'll spy white timber signs that pay respect to the families who lived on the Yumba, along with a replica of one of the original humpies and a map to remember the sites that were destroyed.
The best place to learn about the local Indigenous community and its history is The Old Schoolhouse Yumba Museum.
5. Tour the Booringa Heritage Museum
A historic timber and steel shack on the edge of town holds this volunteer-run museum.
Packed full of local history, historical items and photographs, the museum preserves the heritage of life in old Booringa Shire.
Around the walls are stories of locals, covering social life from weddings and prom nights to crime stories.
Drop in between 9am and noon during the tourist season.
6. Wander the Mitchell on Maranoa Gallery
The old picture theatre is the beating heart of art and culture in Mitchell, and this historic cinema has been transformed into the Mitchell on Maranoa Gallery.
One for culture vultures, this community gallery that includes a movie projection room, library, outdoor artists' workspace and even a sculpture garden.
You'll find exhibitions showing creative works from local artists, plus touring exhibitions bringing the best works from the wider region and national artists.
Keep an eye out for interactive artist workshops to learn new skills such as basket weaving.
7. Pitch a tent at Neil Turner Weir
It's easy to find great campsites in outback Australia and the Roma region is no exception. For a donation you can pull up your RV or campervan in the park by the Neil Turner Weir.
This not-so-average waterfront camp spot has great facilities including a permanent toilet block, free barbecues, picnic tables, a small playground and mowed lawns.
The area is lit by night and by day campers can enjoy fishing, river walks or take the free courtesy bus from the park to the centre of town or the Great Artesian Spa.
Psst – did we mention it's a pet-friendly campsite too?
8. Hit the pavement with a river walk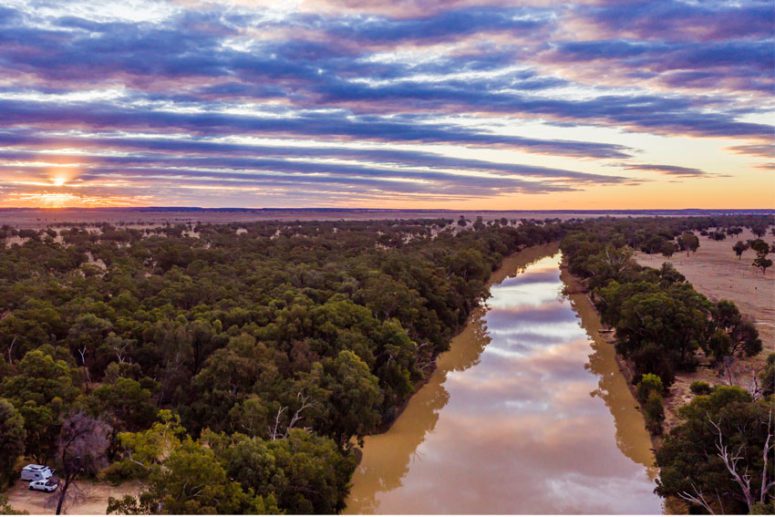 Mitchell is set on the Maranoa River, so of course there are riverside walks to take in the natural bushland setting.
Simply known as the "River Walks", choose from two trail options that start at the Neil Turner Weir.
"Leg 1" takes you along the river bank on a 4.5km one-way trek to Major Mitchell Caravan Park. Or "Leg 2" will lead you to Fisherman's Rest, which is a shorter 3km one-way wander.
9. Tour Major Mitchell's Campsite
Back in 1846, Lieutenant Colonel Sir Thomas Mitchell was tasked with finding an overland route from Sydney to Darwin.
His explorations took him through this part of Queensland and it was here – at Major Mitchell's Campsite – that he set up a supply base during his fourth trial.
Just like the Lieutenant, you can pitch a tent here at the site off Forestvale Road, 38 kilometres north from Mitchell.
10. Explore the Mt Moffatt Section of Carnarvon National Park
In Outback Queensland terms, Carnarvon National Park is just up the road – 200km to be precise. 
Inside Carnarvon National Park you'll find magnificently sculpted sandstone outcrops and stunning views from Queensland's highest plateau.
Mt Moffat rises 1232 metres high above the landscape in the north-east of this remote and relatively untouched section of Carnarvon National Park.
Wander through eucalypt forest and grassy woodlands, past sandstone arches and spires, taking in views and trying to spot some of the 250 bird species as you go.
11. Road trip the iconic Outback landscape
A number of tourist drives in the greater Roma region encourage you to take in the scenery at your own pace.
Tourist Drive #6 takes in the best of Queensland's outback towns, including Mitchell, over two hours.
Starting with the historic Kenniff monuments to the south of Mitchell, you'll continue to Dunkeld before passing through the red soil landscapes and back-road farmlands to Muckadilla.
With both sealed and unsealed roads, the drive is recommended for high clearance vehicles and may not be suitable for caravans.