"The journey is all part of the adventure" should be the official bumper sticker for the Birdsville Big Red Bash, aka the world's most remote music festival.
Each year, approximately 10,000 people make the road trip to the most western corner of Queensland, putting tyres to tarmac across Outback Queensland.
If you're making the 1,600km trek from Brisbane to Birdsville for the three-day music festival, may we suggest adding an extra couple of days (and another couple of hundred kilometres) to your trip to experience the Roma region?
To help you out, we've put together a list of eight things to do in and around Roma that will transform your Big Red Bash journey into a truly epic adventure.
1. Experience life as a "Roma Rigger"
Did you know Roma was the first place in Australia where onshore natural gas flowed?
Discover more trivia like this when you put the Big Rig Night Show Sunset Experience on your to-do-list, learning about the history of Australia's oil and gas industry.
At the show, watch an original short history film and be transported into the life of a "Roma Rigger" working on the Big Rig in the 1930's, all while enjoying a glass of Outback port under the stars in the outdoor theatre.
2. Feel the saleyard bull rush
If you're in Roma on a Tuesday, clear your calendar and join a free guided tour that gives you a birds-eye view of The Roma Saleyards, the largest cattle selling station in Australia.
Sit back and watch auctioneers demonstrate their formidable skills, selling cattle for an average price just shy of $10,000 – more than what most people pay for their first car!
With over 400,000 cattle passing through the centre a year, that's a big beefy business.
3. Tackle this race day
We see your fancy green turf race days and raise you the outback kind – where it's as much about what's happening off the clay track as on it. 
Experience the thrill of a country race meet and make your journey to the Big Red Bash a once-in-a-lifetime adventure by extending your trip to include the Roma Rugby Races.
Taking place on Saturday 25 June from 11am, this action-packed race day is the first event in the Winter Racing Carnival and features a program of rugby union and horse racing at the Roma Turf Club in Bassett Park.
4. Energise your body and mind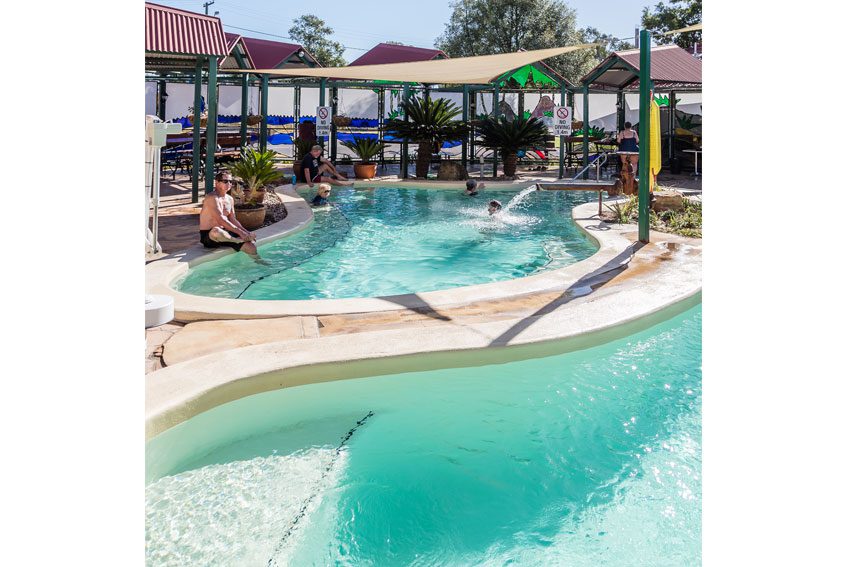 In the words of Marc Black, "sometimes the most productive thing you can do is relax", and that is exactly what you can expect when you visit Artesian Spa in Mitchell.
Relax and recharge your weary Big Red Bash road trippin' muscles and soak in one (or both) pools of mineral water from the Great Artesian Basin.
Designed to relax tired muscles, ease tension, and energise the body and mind, this is the perfect pit-stop to help you break up your trip with some well-deserved "R&R".
Psst – while you're in town, live like a local with this guide to Mitchell.
5. Rev up your engine at this museum
Rev heads rejoice! Roma plays host to Up the Creek Garage, a family-run, small museum owned by fifth generation locals Robert and Edith Burton.
Stop by on your way to the Big Red Bash and enjoy a guided tour of the museum's collection of lovingly restored vintage cars, antique agricultural equipment, and photography from the owners' extensive travels.
Pack the camera in case you get to set your sights on their "pet" Texas Longhorns out back while you enjoy a spot of morning or afternoon tea.
6. Learn about the history of coach travel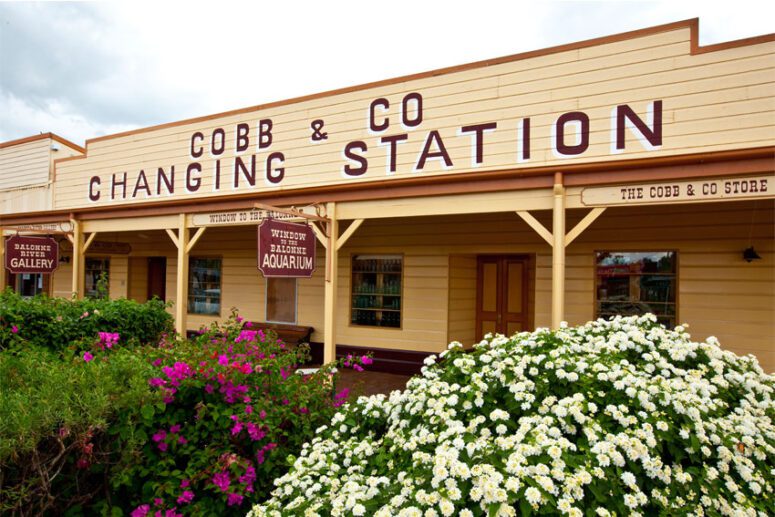 For any history buffs keen to know more about the pioneers of yesteryear, visit the Cobb & Co Changing Station and discover a social history museum, regional art gallery and 25,000 litre freshwater aquarium.
Having once served as a changeover station that linked towns and enabled industry to flow through the region, depart with a fresh appreciation of the critical role that coach-travel played in connecting the towns and people of the Roma region.
7. Hike through Australia's "Green Canyon"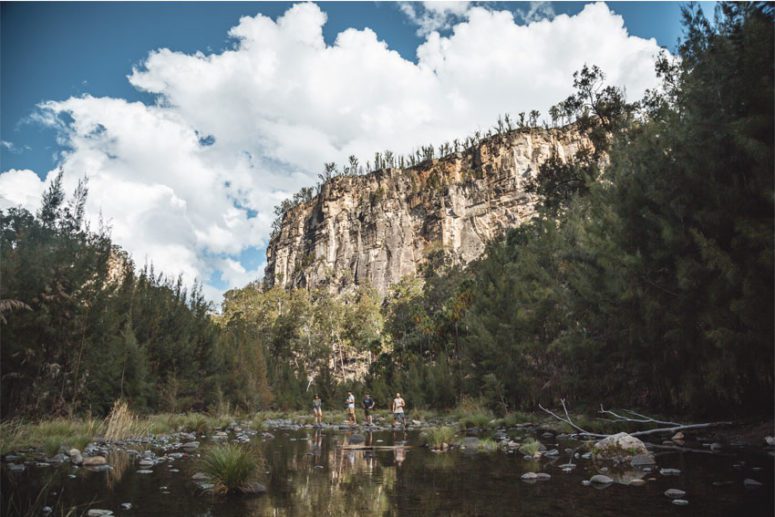 No trip through the Roma region is complete without setting aside a few days to explore Carnarvon Gorge.
A hiker's paradise defined by narrow-sided gorges, sandstone cliffs, moss gardens, Aboriginal rock art and abundant plant life, Carnarvon Gorge is an oasis in the heart of Central Queensland that simply needs to be seen to be believed.
With a variety of walking tracks suitable for all fitness levels, explore this untouched natural landscape enroute to the Big Red Bash.
For guided tour options, Boobook Eco Tours or Australian Nature Guides both run a range of day trips and multi-day trips from Roma or Injune (for a sneak peek of what to expect, check out this local's guide with owner Michelle Whitehouse).
8. "Mucka Bup" at this country pub
Quench your road tripping thirst with a cold beer and piping hot pub meal served at the iconic Muckadilla Pub.
Steeped in rich history, the pub burnt down in 2019 and was re-opened in late 2021 with a spelling error on the sign (courtesy of a cheeky builder playing a prank on the owner).
From this point on, the pub has been affectionally known as "Mucka Bup" to the locals and is a much-loved venue known for its laid-back charm.
Set up your caravan, trailer, or swag in the adjoining campground and then head into the pub for a few beers coupled with classic Aussie fare.
Hungry (or thirsty) for more?